Polka Dots Into The Spring!
Tennessee weather can be extremely tricky. Recently here in Nashville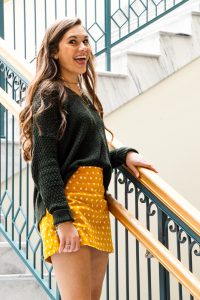 we have gone from the snowpocalypse to the 60 degree weather. My favorite outfit combo for going out lately has been a high waisted skirt paired with a sweater. This is a perfect combination for Nashville weather because if its cooler out, you can add a pair of tights and a cute jacket to make it warmer, or just keep it simple on the warmer days. This particular skirt was custom made in the style of a similar JCrew skirt that is no longer sold, but I have found a few similar ones to link online. There's a lot of yellow ones on ebay, but I'm not sure on the sellers reliability so I will link some in other colors from department stores and etsy instead. My sweater is from American Eagle and I bought it last season but their are still similar ones online! I actually came across one that was very similar in Forever 21 not to long ago. This whole look gave me a very summery school girl vibe along with that winter feel. It's great as a transition to spring outfit and especially perfect for the 60 degree January days we get here in Tennessee!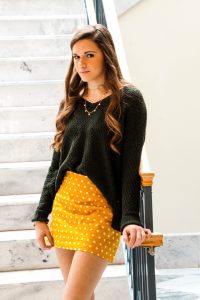 Similar Black Polka Dot Skirt from Etsy
Another Black Polka Dot skirt from LULUS
Also I got these curls with my 1 and 1/2 inch bed head curling wand! These curls tend to be my go to hair style. And my makeup was just my go to as well. My necklaces were bought at forever 21 and are just a set of 3. I paired the outfit with my gray heels!