Traveling on a Budget!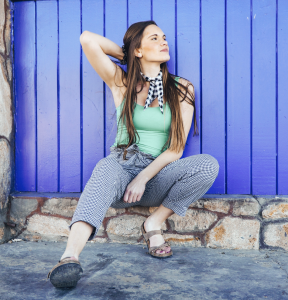 Money is not something college students have a lot of, but it is a time when you are at an age with freedom to take road trips alone, so its helpful to know all the tips and tricks of saving money on a road trip. But don't get me wrong, this post isn't just for college students. These tips are useful for anyone new to road trips.
Recently three of my best friends and I took a road trip to Arizona for less than $300 a person!
Keep in mind, I spent around $250 over the course of the week. I spent about $80 on gas and the rest of my money was spent on food and souvenirs. My friend Taylor drives a prius so she gets great gas mileage. That is how we saved money on gas. But I will share other ways of how to save money so don't worry about that one if you don't have a hybrid car.
Tip 1….. Do your research, and plan your route wisely. Alot of times on vacation, people drive and just randomly stop at sights they have heard of as they go. Yes, sometimes this does work out inexpensively, and I am all about a spontaneous lifestyle, but for money reasons, this might not always be the most economic option.
The way I plan a route is by logging on to a site I use called Road Trippers and adding all the places I want to see and stop at along the way. After you do this, Road Trippers will create a custom route for your trip. You can also put in the make, model, and year of your vehicle and Road Trippers will calculate the fuel cost for your trip. You can book hotels and flights through the website as well. The best part about the website is that once you save your route, all you have to do is download and log in on the app on your phone and click the road trip onto Map and it will go straight to GPS Navigation!
This is not sponsered, I just love Road Trippers and have used it on big road trips and had great experiences.
Tip 2….. Pack your snacks! Personally, I can't ride on a roadtrip without a drink and snacks, but gas station snacks can cost a fortune! In some cases you can spend easily around $50 on gas station snacks on the way to and from your road trip. The best way to save money on snacks is to make sure you bring them with you. I also like to pack waterbottles and flavoring packs.
This next one starts when you get to your destination.
Tip 3….. Buy food when you get there. It's always a good time to go out to eat when traveling, but maybe not for every meal. My biggest tip for food would be to buy food that's easy to make like sand-which items. If there is no refrigerator in the hotel, theres always PB&J sandwhiches…. Either way, this method of paying for food ends up much cheaper than eating out or drive thru food.
These are my top 3 tips. Comment if you'd like to see a part 2!